When it comes to perfumes, there's a world of scents to explore, from floral and fruity to woody and sweet. However, if you're looking to add a touch of intrigue and electric energy to your fragrance collection, spicy perfumes are the way to go. With their warm and captivating aromas, these fragrances have the power to make a lasting impression. In this ultimate guide, we'll delve into the world of spicy perfumes, exploring what makes them unique and recommending the best options for you to try. Whether you're a fan of cloves, cinnamon, cardamom, or pepper, there's a spicy perfume out there waiting to awaken your senses.
What Makes a Perfume Spicy?
Spicy perfumes are characterized by the inclusion of notes that are commonly found in spice drawers. These notes add a certain zing and warmth to the fragrance, creating a unique and captivating scent experience. Some of the key spices used in perfumes include cloves, cinnamon, cardamom, pepper, and more. These spices can be combined with other notes like flowers, woods, or fruits to create unexpected and delightful fragrance combinations. The beauty of spicy perfumes is their versatility – they can be incorporated into various scent families, from floral to fresh to earthy. So, whether you're looking for a scent for a special occasion or an everyday fragrance, there's a spicy perfume that will suit your preferences.
The Best Spicy Perfumes to Try in 2023
1. Cremo Spice and Black Vanilla Spray Cologne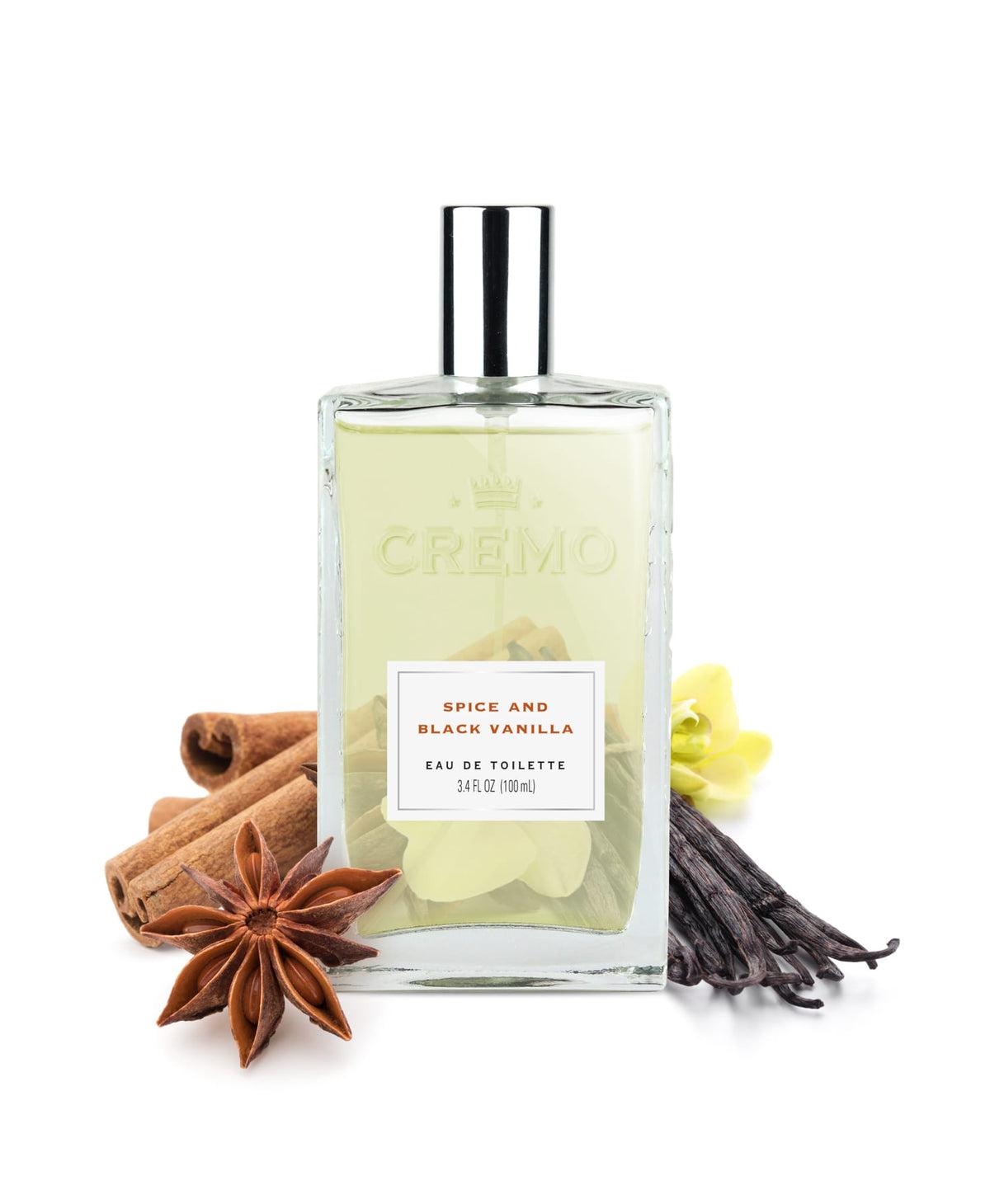 If you're looking for a long-lasting fragrance that combines the warmth of spices with the sweetness of vanilla, Cremo Spice and Black Vanilla Spray Cologne is a must-try. This perfume features notes of Kashmiri cardamom, cashmere wood, and vanilla bourbon, with a touch of tobacco for added depth. Despite its seemingly heavy scents, the fragrance diffuses throughout the day, leaving behind a warm and comforting yet attractive aroma. With its excellent sillage and longevity, this perfume is perfect for those who want their spicy scent to linger throughout the evening and night.
Pros:
Long-lasting fragrance
Decent sillage
A little goes a long way
Sweet smelling finish
Infused with cardamom, cashmere wood, and black vanilla
Cons:
Some may find that the scent of oak doesn't linger as long as expected
The Best Spicy Perfumes for Every Season
2. Winter Wonderland: Maison Francis Kurkdjian Baccarat Rouge 540
The Maison Francis Kurkdjian Baccarat Rouge 540 perfume is a true winter wonderland in a bottle. With its blend of brisk air, evergreen trees, roaring fire, and a hint of boozy sweetness, this fragrance transports you to a cozy ski resort. Its piney notes make it ideal for the winter season, evoking the magic of the snowy landscape. While it may be specific to colder weather, it's a fragrance that truly captures the essence of winter and is perfect for those seeking a unique and captivating scent during the colder months.
3. Nutmeg Delight: Jo Malone Nutmeg & Ginger Cologne
If you're looking for a spicy scent that can be worn year-round, the Jo Malone Nutmeg & Ginger Cologne is a perfect choice. While nutmeg and ginger are key ingredients in a pumpkin pie, this fragrance is far from sweet. The warmth and dryness of these spices give it a fresh and clean aroma that can be enjoyed by anyone, anytime. For a truly versatile experience, try layering it with other fragrances like citrus or vanilla to explore its true range.
4. Sensual Spice: La Perla 5 Sens Eau de Parfum
Leave it to lingerie brand La Perla to create one of the sexiest spicy perfumes out there. The La Perla 5 Sens Eau de Parfum combines the brightness of pink pepper, black pepper, and cardamom with sensual tuberose, sweet rose, and creamy caramel. The result is a fragrance that exudes sophistication and elegance. The deep red glass bottle and metallic silver cap not only hint at the seductive scent inside but also make for a stunning vanity accessory. While it may not be available for in-person testing, the brand offers travel-friendly bottles for those who want to try it before committing to a full-sized bottle.
5. Autumnal Vibes: 5 Sens Burn For You Eau de Parfum
The 5 Sens Burn For You Eau de Parfum is a spicy scent that captures the essence of autumn. With its blend of super spicy clove leaf and woodsy cedar notes, it evokes the cozy and warm vibes of the season. The dry down reveals sweet vanilla, warm amber, and cashmere musk, creating a "skin scent" that feels familiar and intimate. While it may only be available online, this fragrance is worth considering for those who want to embrace the spicy-gourmand trend with an exquisite and comforting scent.
6. Classic Glamour: Chanel Coco Eau de Parfum
For those seeking a perfume with a vintage yet classic glamour, Chanel Coco Eau de Parfum is a timeless choice. With its base notes of resin, amber, tonka, and patchouli, it exudes sophistication. The addition of coriander and clove adds a touch of spice, while rose, orange blossom, and mandarin provide a sweet and floral balance. It's a fragrance that embodies elegance and is housed in the iconic flacon that is instantly recognizable.
How to Choose the Perfect Spicy Perfume
When it comes to choosing the perfect spicy perfume, there are a few factors to consider. First, determine your preference for the intensity of the spice. Some perfumes may have a subtle hint of spice, while others may have a more pronounced and bold spiciness. Next, consider the other notes in the fragrance. Do you prefer a floral-spicy combination or a woody-spicy mix? Experiment with different combinations to find the scent that resonates with you. It's also important to test the perfume on your skin, as fragrances can smell different on different individuals. Finally, take into account the occasion and season for which you'll be wearing the perfume. Some scents are more suitable for certain times of the year or specific events. Trust your instincts and choose a fragrance that makes you feel confident and beautiful.